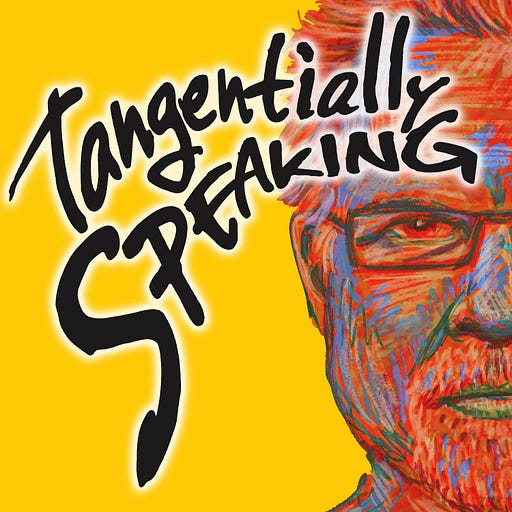 Mar 18, 2020 • 1HR 55M
411 - Eli Marienthal (Back to Earth)
Tangentially Speaking is dedicated to the idea that good conversation is organic, uncensored, revelatory, and free to go down unexpected paths with unconventional people.
Eli and his buddy, Jesse, run Back to Earth, an organization created to take groups of boys and young men into the wilderness for ten days and nights. What happens is powerful, magical, and utterly natural.
Eli is trained through The Tracking Project in Corrales, New Mexico, a non-profit led by John Stokes devoted to peacemaking, nature awareness and cross cultural respect. He is a NOLS alumnus and a certified Wilderness First Responder.
In addition to his work at Back to Earth, Eli is PhD candidate in Geography at UC Berkeley, working on a dissertation about public space and the politics of belonging in Oakland. He has previously conducted research in Haiti and India, and holds a double bachelor's degree and a master's degree in international development studies from Brown University.
Eli is also a poet, dancer, songwriter and spoken-word performer. He was a first generation Youth Speaks poet, and was (maybe still is) the youngest member of a winning Brave New Voices National Slam Team, as well as the youngest to win the Bay Area Slam. He continues to perform original work in a wide variety of venues.
This episode sponsored by Sanny Ceramics.
Be sure to catch Eli on A Millennial's Guide to Saving the World.
Find me on Instagram or Twitter.
Music: "Brightside of the Sun," by Basin and Range; "Key West Run" by Bobby Weidman; "Smoke Alarm," by Carsie Blanton.
Tangentially Speaking with Chris Ryan is a reader-supported publication. To get access to bonus content including bonus episodes, newsletters, and exclusive blog posts, please become a paid subscriber.